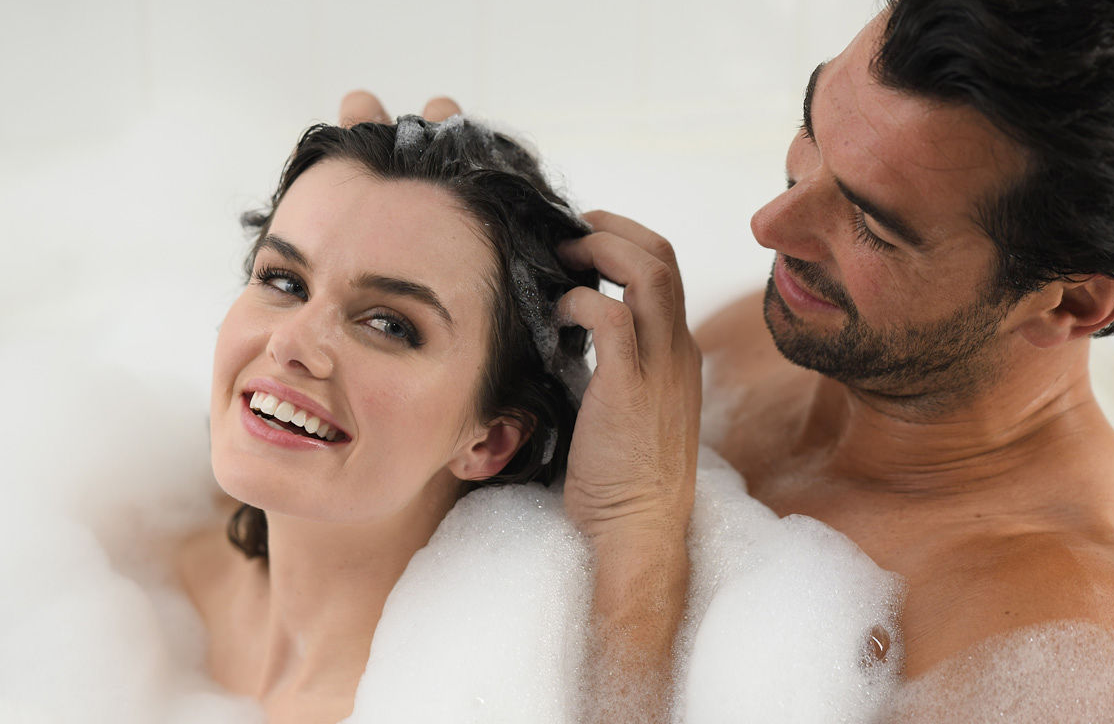 Jun 03 , 2019
Are You Washing Too Frequently?
It's that time again. You step into the shower, wet your hair and reach for the bottle of shampoo before pausing.
You've been wondering lately whether your daily shampoo might be a little much. There is that trend of foregoing shampoo altogether. Plus, shampoo wasn't even popular until the twentieth century, was it? Shampoo can be really harsh on your hair, right? You've noticed your hair can seem dry and brittle after you finish your daily wash. You wonder how harsh shampoo can really be.
Could your daily shampoo actually be damaging your tresses?
It's not an uncommon notion. Many people wonder how often they should shampoo and condition their hair. The answer to this question is heavily dependent upon your hair type.
It Depends On You!
You may have heard that straighter hair benefits from the more regular washing while curlier hair does not. Perhaps we should examine the science behind this difference.
Sebum is what makes shampooing necessary. It is the oily substance that builds up in our hair between shampoos. Sebum isn't a bad thing, however. It's there to keep our skin beautifully moisturized.
The only issue is that sebum causes our hair to feel greasy when there's a build-up of it. It also acts as a dirt magnet.
Some people produce relatively more sebum. These are the people more likely to complain of having an oily scalp or hair.
Straighter hair means that sebum is able to easily travel down the hair shaft in order to keep it moisturized. As you can imagine, curlier hair makes it more difficult for water and sebum to make its way down the hair strand.
This is why it's recommended that people with a curly-kinky hair type shampoo less frequently. Now that we better understand the science behind shampooing and conditioning, maybe we should look at some of the do's and don'ts of shampooing and conditioning your hair. 
What Are Some Shampoo and Conditioning Do's and Don't's?
Here are a number of the do's and dont's you should keep in mind when preparing to shampoo or condition your hair:
Don't shampoo daily

Don't use too much produc

t 
Don't ignore dandruff
Don't leave conditioner behind
Could You Benefit From the Use of a Hair Serum?
If you find that your hair is dull, damaged, or easily tangled, you might want to consider the use of a hair serum. Serums are necessarily applied on freshly shampooed hair. This makes serums an excellent option for those individuals that find that shampooing strips their hair, leaving it dull or brittle. 
Hair serums are a magnificent option because they protect your hair from dirt, heat, and chemicals. Hair serums both treat and prepare your hair for further styling. They can be useful for both dry and oily hair.  
We pride ourselves on our quality products at Christian Iles. Our products mean you'll face the day with luxurious hair.
Our hair serum has been specifically created to provide your hair the nutrients it needs. Argan oil, frankincense and avocado oils mingle to provide you with beautifully moisturized hair. Further, we use a marine plant blend that restructures your hair. This provides the added benefit of increased shine.
We don't skimp on quality at Christian Iles. Our products are richly infused, meaning a small amount of product can easily go a long way. We believe that high quality ingredients afford our customers with greater value in the end.  
We work hard to provide you with the elegant tresses you desire and deserve. 
---